Capital & Transactions
PARTNERS ON DECK
Untethered from the rigidity of traditional models, First Water is the transaction partner on your side of the table with "other side" experience.
Traditional finance models are beholden to their engagement models, particularly those surrounding transactions. If you're not dealing right now, or taking the capital first, they can't (or won't) help. Despite their valuable market roles, their models rely on a critical assumption – that you already know all your options and which is/are the best fit(s) for your objectives. This simply isn't the case for most small and midsize businesses (SMBs).
First Water offers a different approach. With a wider toolbox, engagement flexibility, over $5 billion in diverse transaction experience, and a deep capital network, there are no conflicts in trying to fit you into our box – we stay aligned with your goals, even if they change. Relational Finance shines brightest in transactions, whether the opportunity is in six months or six years.
Capital & Transactions Overview
All corporate transactions revolve around capital in some form. Whether it is cost-efficient financing to fund growth or maximizing the value you've created in a sale, success is largely determined prior to kicking off a deal process.
We know what financing partners, investors, and buyers are looking for and how they analyze opportunities. Our holistic capability set allows you to vet options, get prepped, bring the right partner fits around the table, and align with your success. Add in a track record of strong FP&A, and you're really cooking with FiRe.
Debt & Working Capital Financing
Not just about total dollars, debt financing carries a cost of capital (e.g., interest) and comes with other strings attached that can impact your future flexibility. That said, it remains an attractive way to fund growth and operations without diluting equity, and options have increased. We help you size the need, assess the cost and restriction trade-offs, source the partners, and/or run the process start to finish.
Debt financing initiatives are strengthened when paired with Managed FP&A's cash and working capital visibility, most notably a trustworthy, rolling 13-week cash flow process.
Growth Equity Capital
Bringing on an additional equity partner is a big deal. Not just for what you get, but also what you give up and what it means down the road. Like debt and working capital financing, we're here to help size the need, vet structures and restrictions, source partners, and run the process.
Successful equity raises are all about the story of the future – investors don't get the benefit of last year's cash flow even if that is a way the business is valued. A strong growth and return-on-capital narrative is critical to success, which is empowered by Managed FP&A forecasting capabilities.
Acquisitions & Business Sale
The transaction process isn't complicated. Getting the most out of it is, and starts well before the actual deal dance begins. The best companies are managed so that they are "always ready to transact", but historically this has been a tough or impossible ask for SMBs who don't have the teams or budgets of larger companies. Not anymore.
Whether considering an acquisition, business combination, or sale, we have the experience to assess your current and future opportunities, build the story, and be your partner on deck every step of the way. Relational Finance and our capability toolbox allow us to build relationships and add value well in advance of the actual transaction event, even years. If you ever want to sell your company, you should know First Water today.
GET THE WHITEPAPER
Download our whitepaper, Capital & Transaction Preparation, for a primer on the transaction process and critical tips to prepare for success!
TAKE THE FIRE SCORE QUIZ
Growth goals, funding requirements, and owner objectives are critical inputs to plot the optimal course. Aligning the three roadmaps (growth, capital, personal) is a core component to First Water's mission and relationship building. It starts with our free finance readiness assessment tool, FiRe Score, which takes less than five minutes.
Blog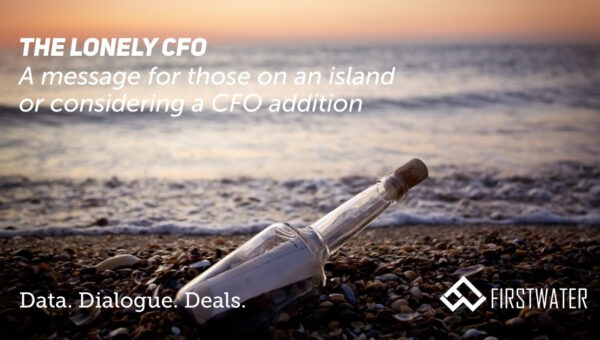 Financial leaders in small and midsized businesses (SMBs) have it tough. SMBs...
LET'S START A DIALOGUE.
Grab some time with a member of the First Water team to start a dialogue about your goals and how the finance experts at First Water can propel you down your path.